Gift Cards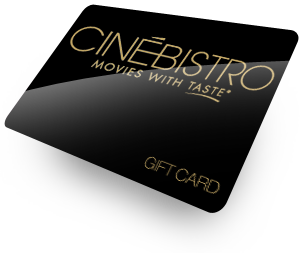 Dinner and a Movie to Remember
The CinéBistro gift card is the perfect gift for any occasion. Treat the discerning moviegoer on your list to a dinner and a movie they will always remember.
Buy Gift Cards
Gift Cards are reloadable, do not expire, and are available for purchase at any
Concierge Desk or at our online store.
Check Gift Card Balance
To check your Gift Card balance, please visit the
Gift Card Balance page and enter your card number.