Join Club Ciné Today
Earn Points. Get Rewards.
Become a member of the Club Ciné Rewards Program and earn points towards FREE movies, candy and menu items…all by seeing your favorite movies at CinéBistro. For every $1 spent on movie tickets, you earn 1 point. You can even earn points on the tickets your family and friends buy when they're with you! Rewards are earned at each 50 point level.
It's fast and easy!
Join by getting your Club Ciné card at any of our Concierge Desks and begin using immediately.
Return to the website to register your card for a COMPLIMENTARY popcorn and to receive our weekly newsletter. Click Register below and fill out the form - It's that easy!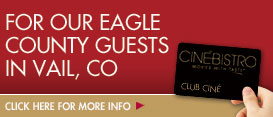 Note: Maximum 100 points rewarded per day - Free movie tickets exclude special engagements/Sony films. Club members must be 21 years of age or older (except at our Hampton and Vail locations).
EXISTING CLUB CINE MEMBERS
Need to check your point balance, replace a lost card or just have a general inquiry? Visit concierge on your next visit or send us an email: [email protected]
Please be sure to include your full registered name, card # (if available) & registered email address.
CinéBistro reserves the right to modify or cancel the Club Ciné program at any time.
Read full Terms and Conditions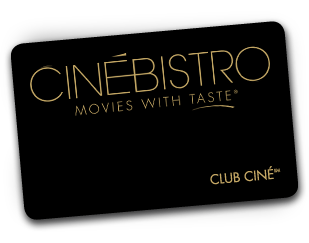 50

FREE Popcorn
100

FREE Concession Candy
150

FREE Movie Ticket


(Sony Films Excluded)
200

FREE Popcorn
250

FREE Concession Candy
300

FREE Movie Ticket


(Sony Films Excluded)
350

FREE Preview Item (Appetizer)
400

FREE Dessert
450

FREE Sandwich Selection
500

FREE Movie Ticket & Popcorn


(Sony Films Excluded)